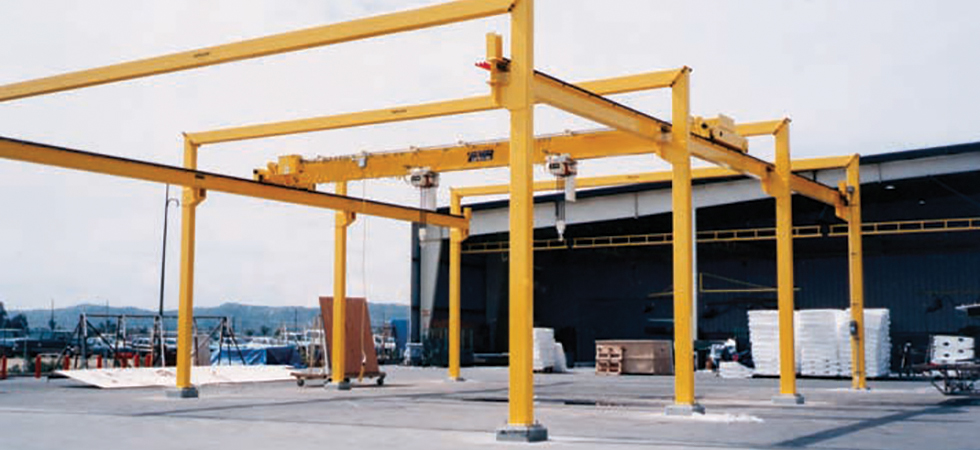 Free Standing Crane Systems
A ProservCrane Free-Standing Crane System is an efficient, independent, modular crane system that is easy to install, dismantle, relocate, expand or change production layouts; an advantage when used in concrete and leased buildings, outdoors, or in any other structure not specifically designed for overhead cranes. And because runway beam connections are bolted down featuring structural rigidity; there is no need for field welding.
Our Free-Standing Crane Systems are designed and manufactured using structural steel columns that form into an unique frame design; eliminating the need for A-frame legs, X-bracing or tie-offs to a building or structure. Also, there are no crane loads imposed into the building structure so less valuable production space is required to use this system.
The design meets or exceeds CMAA, IBC, UBC, ANSI, OSHA, AISC and AISI requirements and all systems are engineered to meet rugged seismic design requirements for a durable and dependable crane structure.
Free-Standing Systems up to 10-ton capacity and 45 ft. span are preengineered and fully stocked to provide low cost and quick delivery. Systems for larger spans, heights and capacities up to 40 ton are available upon request. All ProservCrane Free-Standing Systems carry a limited warranty against defects in material and workmanship if properly installed and maintained for a period of one year from date of shipment.