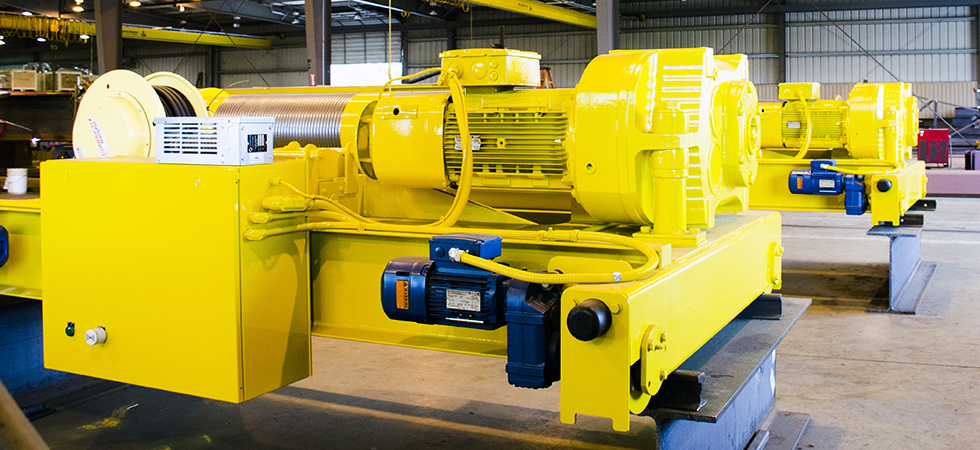 Built-Up Hoists
A Built-up Hoist is tailored for use in heavy-duty applications for users desiring long life and better durability. They also provide for easier maintenance. At ProservCrane Group we have spent significant time and resources researching and developing superior, highly-specialized Hoists which offer incomparable quality and low cost of ownership. Custom-built to your specifications, our Hoists are one of the most durable and reliable on the market today.
What makes our Hoists so superior is our approach to research and development. Our philosophy is to be the best in areas where we feature significant knowledge and expertise above the rest, and in return we expect the same proven results from our component partners. The outcome is the creation of an elite Hoist that surpasses industry standards and meets your criteria and demands; this includes receiving the latest in technology using non-proprietary parts that are widely available from any industrial component reseller.
Built-up Hoist up to CMMA Class "F" Service Indoor/Outdoor General
Class "A" thru Class "B"
Double reeved for true vertical lift
Drum and sheave rope ratio 24:1
Rail sweeps on trolley provided as a standard
Hoist Motor
Totally enclosed Non-Ventilated (TENV) AC 60 min. vector motor
Class "H" Insulation
Hoist motor is connected to gearbox via coupling for ease of maintenance
Class "F" Thermostats (Klixon) in all three phases
Multiple dips and brakes
Cast iron frame and brackets
Double shielded ball bearing, regreasable without disassembly
Rugged bearingless encoder
Hoist Brake
Standard vector disc brake rated at 150%
Optional mill-duty shoe brake available
Trolley
400 BHN hardened wheels
Double spherical, roller type bearings
Trolley frame is an all-welded fabricated steel
Polyurethane bumpers
Line bored for precise traverse motion
Central lube available upon request
All components are serviceable from top deck
Continuous Duty Class "F" insulation trolley motors
Trolley Motor
SEW eurodrive helical reducers
Totally enclosed non-ventilated (TENV)
Continuous duty Class "F" insulation
Disc brake rated at 125%
Paint
A standard ProservCrane finish is a safety yellow industrial enamel
For information on custom paint specifications contact our Sales Department.
Options
Nested/central lube
Motorized rotating bottom block
Ribbed plate decking
Other special features can be added to meet your application or individual requirements. Contact your Sales Representative for pricing information.